Shaker Kitchen with withe and wood cabinets, Lexingoton MA
Thursday, 07 Jun 2018 AT 7:26 PM
Tow toned Kitchen with white and wood cabinets, Lexington MA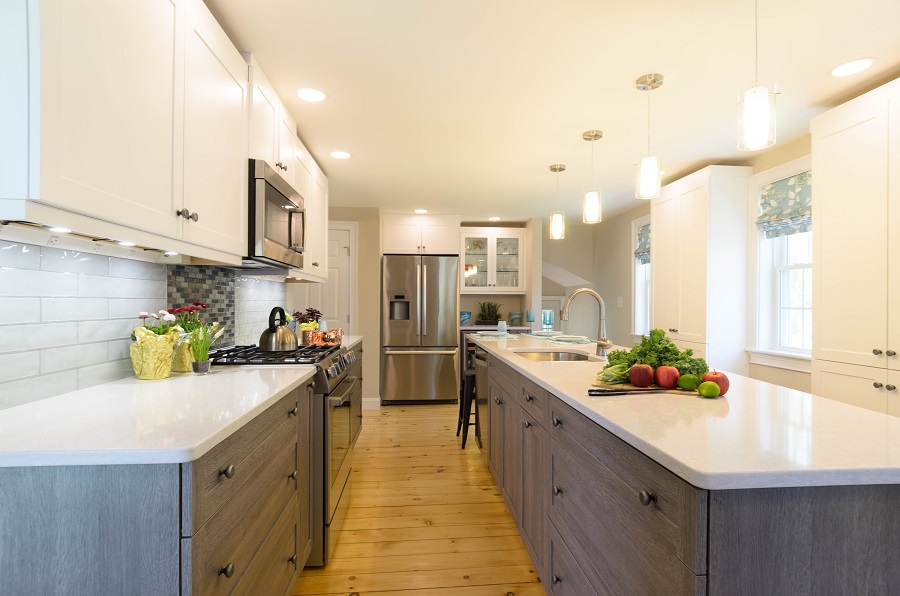 Shaker Kitchen, Lexington MA
White and wood shaker kitchen remodel, Lexington MA
Kitchen design with custom island that tapers in.
The island has seating incorporated into the design and additional storage space built in.
New quartz countertops throughout make the kitchen functional and fashionable.
Updated appliances placed into the new kitchen really make the kitchen perform efficiently.
Mudroom incorporated into the kitchen.
Lighting design incorporated into the kitchen all set on dimmers.
Backsplash lighting is great to set the mood or use as a nightlight or brighten up the food prep area.
The new remodel is spacious and easy to use.
Dual waste tucked away in cabinets keeps the smell down and off the floor plan.
Plenty of drawers and cabinets for storage space at hands reach in Lexington MA.
Gorgeous backslash behind the range to tie together the rest of the white and wood kitchen.
In Summary- 
In this new  shaker white and wood cabinetry kitchen remodel, Lexington MA white quarts counter tops match the wall cabinets while the natural wood color base cabinets ground the kitchen design. The light colors brighten up the shaker style kitchen, which is something everyone want's in a newly designed kitchen space. The previous kitchen was small and closed off with an unnecessary large bathroom off the end of the kitchen. The designer expanded the kitchen and made the secondary bathroom smaller and transformed it into a walk in pantry. Now the new kitchen has ample space and a spacious flow in between the walkways. The homeowners can maneuver around there kitchen effortlessly. The center island is unique in shape it's nice and long stretching the length of the kitchen but tapers off at one end. There is seating incorporated into the island and plenty of storage space. Around the perimeter of the white and wood shaker style kitchen there are tall pantries for food storage. The base cabinets are all replaced with top of the line drawer's verses doors. The drawers hold up to 200 pounds and are all soft closing. It makes it easy for the homeowners to grab a heavy pot or pan on the fly. There's all new appliance incorporated into the new kitchen and a new drink fridge with a customs bar section with gorgeous glass panels that showcase all the fine china. There is also a mudroom incorporated into the design for the homeowners and their kids to hang jackets, sports gear and winter gear all season long.
Please click on the images below to see enlarged pictures of this Driftwood cabinetry kitchen remodel, Lexington MA……
Tags: backsplash ideas, cooking, dream kitchens, glass cabinets, home improvement, lighting design, new kitchen remodel, quartz countertop, renovation, sub zero appliances, viking appliances, white kitchen, wood kitchen