Dream Kitchens Dream Team
To email a member of the Dream Team, click on their name below:
NINA HACKEL – As the owner of Dream Kitchens, Nina Hackel started her training in kitchen design at the early age of 8 years-old, when her father (the founder of Dream Kitchens) had her measuring and drawing the kitchens he was designing. She was educated at WPI with a B.S. in Engineering and has a Master of Business Administration. Her first career had her traveling throughout Europe and Asia. With a logical mind from her years of engineering, the experiences of her world travels, and her brilliant personality, Nina has brought a fresh outlook to her design work and to Dream Kitchens. Nina has won numerous awards for both designs and creativity. She also has been seen on New England Dream Home, where her home was featured.
Click NECN Dream Home .
SABRINA MARTELL, DESIGNER – Sabrina graduated from Wentworth Institute of Technology's CIDA accredited Bachelor of Science in Interior Design program in Boston, MA. She has developed and perfected her design skills working at design firms in Manhattan, NY and the Boston Design Center. She has experience designing within a variety of projects from residential to commercial spaces. Her great energy and attention to detail is always reflected in her projects. She also has experience in management ensuring Dream Kitchens showroom is always giving customers that "WOW" reaction
DONALD L. SMITH, AKBD, CS# 097095 – Don loves kitchens! A practical knowledge of remodeling, combined with his experience in the kitchen and bath industry make him uniquely qualified to create the space of your dreams. Don is certified as an Associate Kitchen and Bath Designer by the National Kitchen and Bath Association (NKBA). Additionally, Don is licensed by the Department of Public Safety in Massachusetts as an unrestricted Construction Supervisor. His award winning designs have been featured in Kitchens by Professional Designers and Signature Kitchens and Baths publications.
JACKIE SMITH, SENIOR DESIGNER – Jackie has been with Dream Kitchens since 1993, and within that time has won over 25 design awards. She holds a Bachelors of Science degree in Interior Design from the University of Bridgeport in Connecticut. She has been designing spaces for her clients with fun, excitement, and a flair her clients have always appreciated. Jackie is a member of the HBRANH as well as the Nashua Area Homebuilders and Remodelers Association and has been a featured designer on Home & Garden television's Kitchen Design and Bed & Bath Design. Her unique and creative kitchens have been featured in both Signature Kitchens and Kitchens By Professional Designers magazines.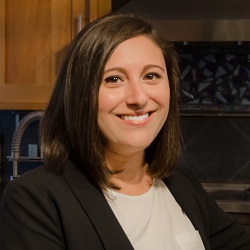 GEMMA MCWATERS, DESIGNER – Gemma McWaters – As the daughter of the owner and granddaughter to the founder, Gemma has been around kitchen design her whole life. Gemma graduated from University of Hartford with a degree in Business administration and officially joined the Dream Kitchens team in 2014. Gemma is excited to learn more about design and be a part of the Dream Kitchens team.
OPERATIONS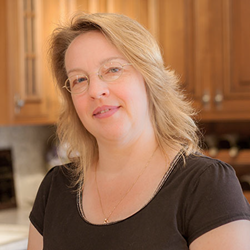 KRISTINE CORUTH, OPERATIONS MANAGER – Kristine has been with Dream Kitchens as an intern since 1991 while still attending college. She graduated Cum Laude with a Bachelors of Science in Interior Design from Endicott College in 1992. She has been with the company almost from the start and over the years has been very involved in the implementing of many of the programs that are used in the managing of each project. She has been behind the scenes checking jobs, doing perspectives, ordering and scheduling delivery of product and even doing cabinet deliveries. Her primary goal has been the day to day running of projects. She is a Project Coordinator, as well as the Office Manager.
EVA CHENG BSID, PROJECT COORDINATOR
– Eva graduated from Endicott College in Beverly, MA (CIDA accredited) with a Bachelor's of Science degree in Interior Design with a concentration in Sustainability. She obtained knowledge and experience in all aspects of residential design from completing a variety of projects over the past few years all over Massachusetts. Applying her listening skills with her organized, punctual and friendly personality; she focuses on taking care of clients and making sure they are receiving the best service possible. Her passion for food and cooking has led her to love kitchens since an early age which developed into an interest for kitchen design – which has ultimately led her to Dream Kitchens at the very beginning of 2016!
KIM HAGERSTROM, PROJECT COORDINATOR – Kim has been a Project Coordinator at Dream Kitchens since 2001, and has assisted many satisfied clients whose dream projects have become realities. She works with clients, suppliers and contractors to assure that both the finished project and the process of getting there live up to your best expectations. Kim has a wealth of experience, with a stellar track record of success in customer satisfaction. Prior to joining us, she excelled in jobs in customer service, administration, and management. Kim brought to each of these jobs her ability to get complex work done through the coordinated efforts of multiple people, and her genuine belief that the customer comes first. Kim brings these same attributes, along with her enthusiasm and high energy to each and every project at Dream Kitchens.
MARIA MILLIOS, CAD SPECIALIST – Maria has been a member of the Dream Team since 1998. She has been involved in our marketing and project coordinating in the past, and now her primary focus is creating beautiful perspectives and drawings with our 2020 CAD software. Maria's background in sales and customer service, as well as her infectious laugh make her a valuable member of the team.
DAVE PRATHER, SERVICE MANAGER – Dave has been fabricating countertops and building and installing cabinetry since 1982. He has been a Dream Kitchen Certified Installer since 2003, and became the Service Manager in 2009. With his vast knowledge of cabinet construction, installation, and general construction principals we are proud to have Dave oversee all of our projects during the installation phase through completion.