Award Winning Designs – Over 200 Awards
Come Visit our Award Winning Showroom
Kitchen Design Windham NH
Kitchen Design with costume bar in Windham NH
Presented by Award Winning Dream Kitchens – winners of over 175 awards!!!!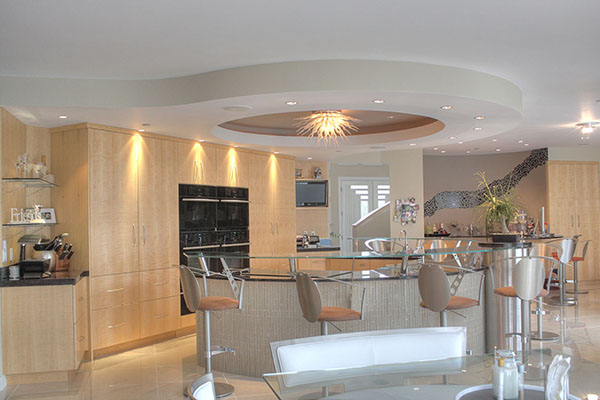 These clients were interested in a contemporary style not often seen in New England. They were looking for a "futuristic" look. The bridge of the "Starship Enterprise" came to mind!
A wall was designed to anchor the bank of tall components that integrated the two Sub Zero refrigeration units and pantry storage. It also completely hid two upright steel columns required by the homes architecture. The wall also defined the walk way around the kitchen to a small powder room. An island was centered on the wall with a semi circle design. A Wolf induction cook top with down draft exhaust provides plenty of surface cooking power to the chef.  The ceiling above the island was sculpted to replicate the round shape below. Custom stainless steel supports provide structural integrity to the elevated glass held in place above the counters below. A stainless steel column capped with a 2 ½" granite top provides a break point in the glass circle. This was required due to limited availability of oversized tempered glass. The "Medusa" light fixture in the ceiling carries the one of a kind look above the island.
The overall effect of the angled walls and rounded shapes of the kitchen are a stunning blend of opposites. The use of glass, stone, steel, and exotic woods and lighting effects are what will always bring this kitchen back to the future!
To see more award winning Dream Kitchens and baths visit our photo gallery by clicking here…
Award winning Dream Kitchen is proud to service the communities in and around Winham NH including, but not limited to Windham NH, Maine, New Hampshire, Vermont, Massachusetts, Connecticut, Rhode Island and points beyond Windham NH.