Award Winning Designs – Over 200 Awards
Come Visit our Award Winning Showroom
Kitchen Remodel Stratham NH
Kitchen Remodel in Stratham NH
Presented by Award Winning Dream Kitchens – Winners of over 175 awards!!!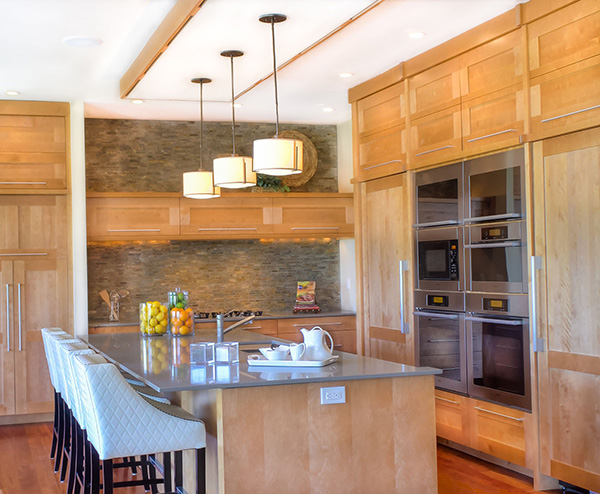 Imagine a lazy morning in this casually elegant kitchen, sipping your freshly brewed coffee as natural light pours through floor to ceiling windows. Then imagine being in this kitchen sipping your morning coffee and gazing out at the beautiful rolling landscape of one of New England's prestigious golf clubs.  Imagine . .
The owner of this beautiful contemporary kitchen with its idyllic setting imagined !  And her kitchen designer captured her imagination and brought this inspired space to life in both style and function.
Columns of stainless steel are balanced by columns with the warmth of birch wood with just a hint of stain. On an adjacent wall one more wood column rises from floor to ceiling.  A strong horizontal line of cabinetry seemingly intersects the vertical columns. While contemporary in design, the cabinetry in this kitchen found its beginnings with the Shakers and the designers of the Craftsman period.  Increasing the size of the framing on the doors, accenting the cabinet shapes with square-edged trim and blocks of wood at varying depths, thinly slicing and randomly sizing the natural stone on the accent wall, and choosing oversized stainless steel handles definitively bring this kitchen forward in time.  Recycled glass countertops in a soft, quiet color continue to help this kitchen live so harmoniously with its surroundings.
As the day unfolds and the lazy morning turns into ambitious meal preparation, it is clear that this kitchen remodel Stratham NH, is a chef's delight.  The stainless steel columns incorporate double ovens, a microwave and a steam oven.  Two wood columns house a refrigerator and a freezer.  The separate wood column reveals pantry storage, and a TV is hidden behind a lift-up door.
On the island with its clean, rectangular shape two dishwashers flank the sink.  Imagine ! how much more pleasant the task of clean-up is when you overlook the family living space and vista beyond.
In the cook center, a complement of drawers provides excellent storage for pots and pans, utensils, spices and herbs around the 5-burner cooktop.  A powerful vent with a rear exhaust maintains the horizontal design of the space. And the freshly-brewed coffee in the morning ? It comes from a built-in coffee maker that's just around the corner from the refrigerator.  Along with a wine refrigerator, it creates a beverage and serving center between the kitchen and the dining room.
The homeowner envisioned a kitchen that is as beautiful as its surroundings.  Her kitchen designer wanted her kitchen to be as functional as it is beautiful. Both agree that this kitchen remodel Stratham NH lives up to their expectations!