Award Winning Designs – Over 200 Awards
Come Visit our Award Winning Showroom
White Kitchen Remodel- Lexington, MA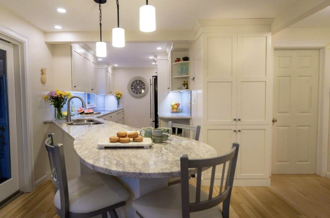 The Features…
All white remodel in Lowell, MA
Table-like seating at the end of the peninsula perfect for a quick breakfast
Pendant lighting hangs over counter to brighten up space
Floor to ceiling cabinet for extra pantry storage
Subway style backsplash compliments color palette
Soft grey granite countertop
The White Kitchen Remodel Design
This Dream White Kitchen remodel in Lowell, MA is all about storage, storage, storage! Featuring stunning floor to ceiling shaker cabinets, your pantry will never be overcrowded. Soft grey accents in the granite countertop invite you into the warm space. The counter extends into a peninsula perfect for three to comfortably sit and enjoy a cup of coffee. A beautiful bar area on the left wall is complete with wine cubbies and a rack to display wine glasses. Three pendant lights hang above the counter to transform this space into a bright, white kitchen.
Contact us for all your remodelling needs! Meet with your personal Dream Kitchens Designer in our Award Winning Showroom!
We're PROUD to have won OVER 200 awards! Call our Design Team at (603)891-2916 or visit our website at www.adreamkitchen.com to get started today!
Dream Kitchens, Nashua NH, is like no other kitchen remodeling firm in New England. The focus is on designing and creating living spaces that make sense, and we look at each project with a fresh eye, making the space work with all the adjacent rooms in your home. We guarantee we will make your kitchen or bath look uniquely beautiful, incorporating your own personality along the way. We make your space flow better within your home, creating 30% more storage and noticeably increasing the useable counter space.