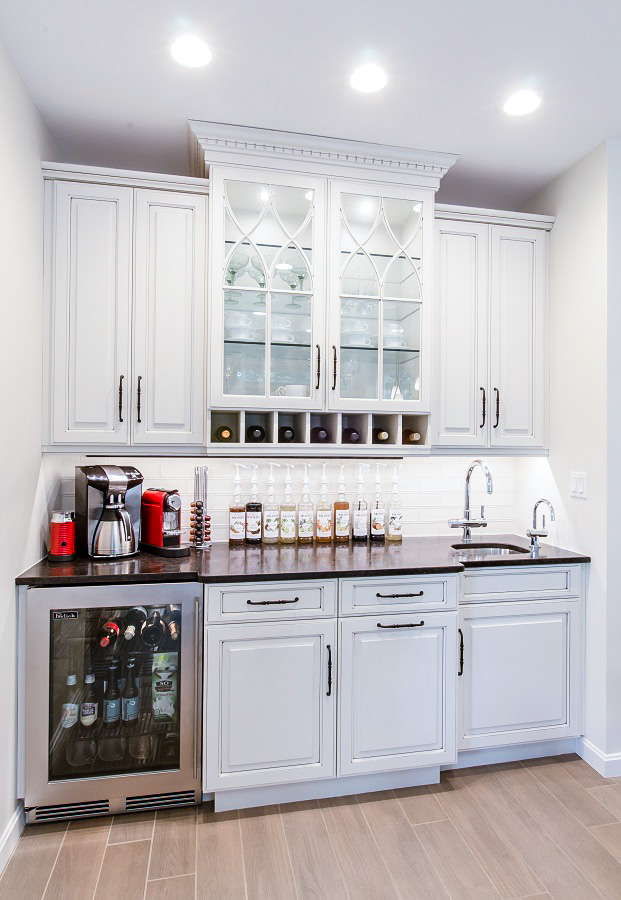 Create the perfect bar area with white cabinets all thanks to our Award Winning Design Team!
Isn't this the perfect snack station? Keep the your drinks chilled at the right temperature with this mini-cooler. But there's nothing "mini" about it! Sodas, juices, wines, mixers and even snacks fit wonderfully here. Next to the cooler are 3 spacious cabinets with 2 pull-out drawers that keep your utensils organized. Is that a mini-sink on the right? Our design team installed this nifty mini-sink with a drinking faucet. There's enough space between the countertop and ceiling cabinets to use your coffee machine, flavored syrups and more!
The ceiling cabinets are PACKED with stunning features. We installed a wine rack that fits 7 bottles just under these elegant glass cabinets. Speaking of glass cabinets, these glass cabinets have 4 levels which proudly show off your prized glassware! Efficient LED lights brighten up this corner by hiding just under the wine rack and ceiling. This bar area with white kitchen cabinets is perfect for storing your coffee, espresso and snacks!
Dream Kitchens proudly serves the New Hampshire and Massachusetts area by providing award winning designs. From kitchen remodeling to bathroom renovation, every space is highly crafted by our Design Team! Have any questions about starting your next remodel? Contact us today by email or by calling 603-891-2916! Our Award Winning Showroom features real kitchens in over 3,000 square feet.