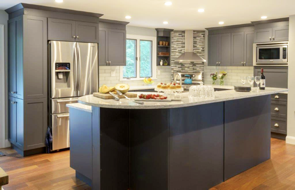 This White And Grey Remodel Features…
Matte grey cabinetry
Light grey subway style backsplash
Stunning white and grey mosaic tile behind hood
Tucked in stainless steel appliances
Exposed shelves next to hood
Window to bring in natural light
Lots of recessed lighting
Large kitchen with elevated surface
White marble countertops
The White and Grey Remodel
The Island
The White and Grey remodel features a large unique island in the center. This custom island is the kitchen´s focal point. Add barstools at the counter, and immediately transform the kitchen into the perfect entertainment space for all of your guests. A kitchen was placed in the island so you can always be part of the conversation, as well as the stainless-steel dishwasher and extra storage. A raised platform makes the island even larger and separates your prep space from the designated entertaining area.
The Cabinets
The kitchen is filled with the cool charcoal cabinetry that extends to the panels under the island. With floor to ceiling cabinets next to the fridge, you'll never run out of pantry space. Exposed shelves next to the hood is an interesting element where you are able to customize the space further and show off your favorite cookbook or other décor.
The Color Palette
A customized color palette brings this space to life. While the grey cabinets grab your attention initially, the backsplash also stands-out as a statement piece. Light grey subway style backsplash lines the majority of the kitchen wall except behind the hood, where white and grey mosaic tiles take over. To finish off the space, we added white marble countertops.
In Conclusion…
Despite the cooler tones, this space still remains bright and airy. A window sits over the counter and reflects perfectly off of the white countertops. Recessed lighting is strategically placed to highlight all parts of the space. Take a look at the pictures below and contact us today to start designing your dream kitchen.
Contact us for your next remodel. We're also on Facebook and Instagram!