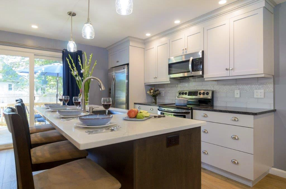 This Two Toned White Kitchen with Darker Accent Tones Features…
Bright white cabinetry
Black granite countertop
Large island with wood paneling and white quartz countertop
Light grey subway tile backsplash with unique accent strip of circle tiles
Three pendant lights over the island with lots of recessed lighting
Many outlets along the kitchen wall
Brand new stainless-steel appliances
The Two Toned Color Palette
Two Toned Kitchens make a bold statement. Ever dreamed of kitchen that brightens up your whole house? This is the remodel for you! This kitchen features white shaker cabinets that make the space feel modern. Darker accent tones compliment the cabinets in the black granite countertop. A light grey backsplash lines the backwalls using subway tiles and a unique strip of circular tiles.
The Island
The large island is the perfect addition to the space! A heavenly white quartz countertop matches the stunning white cabinetry and overhangs to create a unique seating area for four. We placed brown paneling and cabinets under the island for dimension and extra storage space.
The Cabinets
On the left side of the kitchen sits a wall of pantry cabinets. You will never be without storage! There is a panel of floor to ceiling cabinets, as well as a nice, small counter space for you to throw your keys onto after you get home from work or display your fruit bowl.
The Lighting
All of these stunning elements would be nothing with the lighting that we strategically placed throughout the space. This remodel is filled with lots of lighting. We placed recessed lighting that allows the white cabinets to appear even brighter. A large patio door brings in the natural light. Three beautiful pendant lights hang over the island. The frosted glass of these lights paired with the gold hardware transforms this space into a modern oasis.
The Gallery
Take a look at the pictures below and contact us today to start designing your dream kitchen.