Award Winning Designs – Over 200 Awards
Come Visit our Award Winning Showroom
Light Gray and Blue Shaker Kitchen, Boxborough MA
Shaker kitchen remodel with gray and blue tones, boxborough MA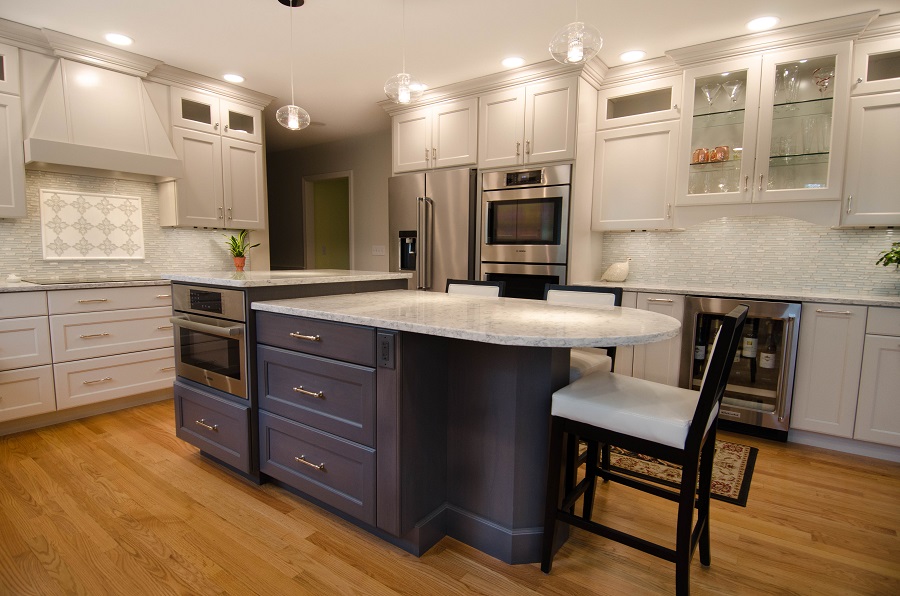 Light Grey and Blue Kitchen remodel shaker style kitchen
Light Gray and Blue Shaker Kitchen, Boxborough MA
Kitchen design with large island in the center with plenty of storage space.
The island has seating incorporated into the kitchen remodel and is designed to have multiple levels so the homeowner doesn't have to bend when using her built in microwave.
New quartz countertops throughout the kitchen design and complementary backslash.
Updated stainless steel appliances placed into the new shaker kitchen design really make the kitchen design perform efficiently.
Backsplash lighting is great to set the mood or use as a nightlight or brighten up the food preping area.
New large push out garden window for all of the homeowners plants.
Dual waste tucked away in cabinets keeps the smell down and off the floor plan.
Plenty of drawers and cabinets for storage space at hands reach in the kitchen design Boxborough MA.
Gorgeous backslash behind the range to tie together the rest of the kitchen.
In Summary- 
In this new grey and blue shaker style kitchen, Boxborough MA, the Light Gray and Blue tones tones contrast and work together to create movement throughout the kitchen design. The existing kitchen was small and dark. As the designer worked with the homeowners it was unanimous that adding more windows was the right thing to do. It opened up the kitchen area a lot and didn't necessarily break the bank.
The Island
The center island works as a great prep area but also works as a surface to prep food at or eat at. Below the island there is plenty of storage space, around the perimeter of the kitchen there is floor to ceiling pantry's. 
The Storage
Throughout the kitchen design in Boxborough MA, there is plenty of storage space that is conveniently placed with intention. The storage space is easily accessible and placed in a way that the homeowners don't have to bend down or walk across the kitchen to get an extra pot or pan.
The Lighting
There is plenty of overhead lighting and backsplash lighting to brighten up the room. There is a separate area for a drink fridge and bar area with beautiful glass doors that showcase the homeowners fine glassware. Also there is a neat charging station with matching tile backsplash for the homeowners phones and speakers.
Please click on the images below to see enlarged pictures of this new shaker style kitchen remodel, Boxoborough MA……