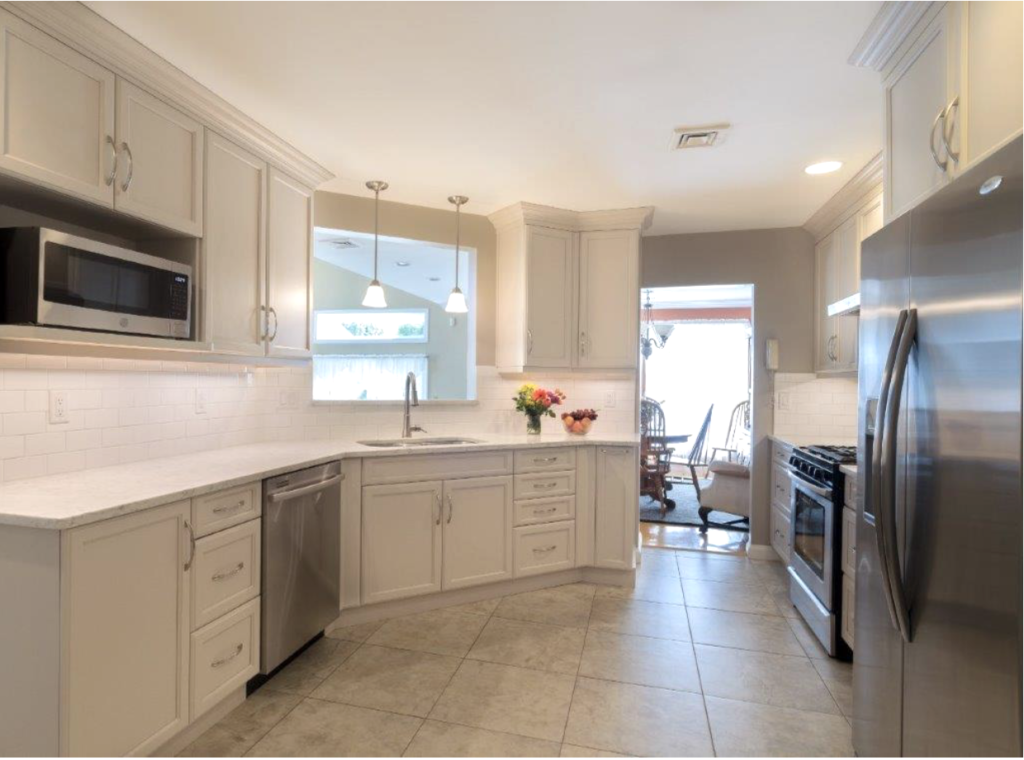 Small area made to look bigger with bright white cabinets
New stainless-steel appliances
White subway tile backsplash
White granite countertops
Large breakfast bar in kitchen wall to open up the apace
Two pendant lights over sink
Double bowl sink
Ornate bar station with large wine rack, sink, and glass paneled cabinetry
Transform your small kitchen with our designs!
This Small White Kitchen appears larger thanks to our design for an all-white space. White shaker cabinets complement a white subway tile backsplash. These white granite countertops are the perfect accent for white cabinets. A full height backsplash creates a dreamy feel. The cabinets are strategically placed at the perfect height.
The Design
A breakfast bar window is built into the kitchen wall which opens the space. Now, you'll never be excluded from the conversation while cooking! A double bowl sink sits right underneath with two pendant lights hanging above. Brand-new stainless-steel appliances modernise the new remodel!
The Features
The ornate bar serves as the statement piece of this kitchen. A large wine rack sits in the middle with an open shelf underneath to display any décor. Two glass panelled cabinets next to the rack display glassware. Recessed lighting showcases the gorgeous white granite countertop with a small built-in sink. The bottom half of the bar is all cabinets and drawers of varying sizes for extra storage.
Maximize the space in your small kitchen! These countertops are perfect to display other kitchen appliances, flowers, or your bowl of fruit. With the large opening in the wall above the sink, this kitchen feels so spacious! Take a look at the pictures below and contact us today to start designing your dream kitchen. Find us on social media! We're on Facebook and Instagram.
The Gallery