Award Winning Designs – Over 200 Awards
Come Visit our Award Winning Showroom
Off-White Kitchen Remodel with Improved Storage Space in Acton MA
Small Off-White Kitchen Remodel with Improved Storage Space in Acton MA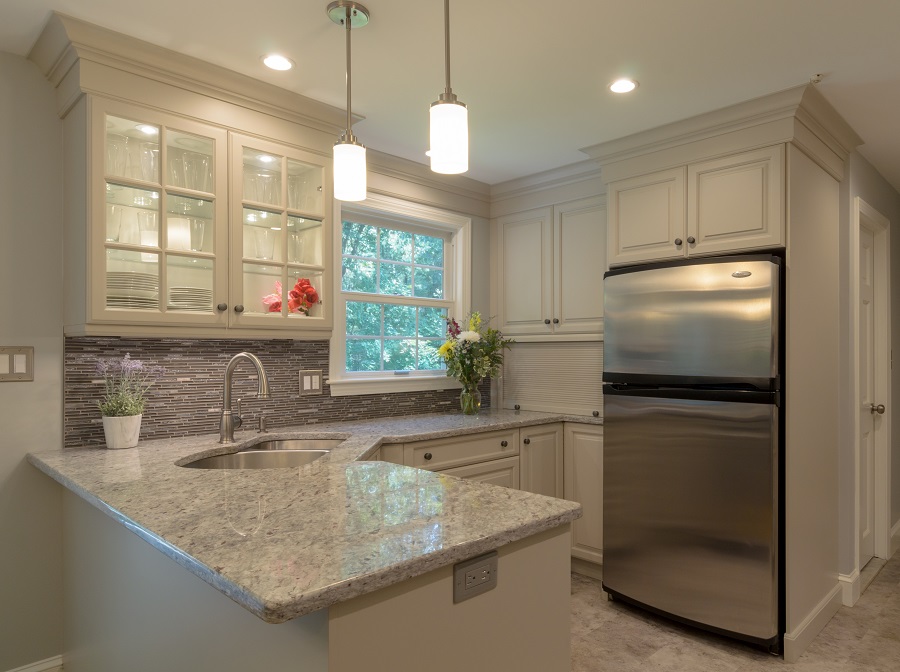 Small kitchen area but plenty of storage space in this kitchen remodel.
Off-White Kitchen Remodel with Improved Storage Space in Acton MA
Kitchen design with corner sink in kitchen renovation for maxim countertop surface.
Peninsula style island with seating incorporated into the kitchen design.
Built in Bar area with open shelving for wine storage and beverage fridge.
New granite countertops and tile back splash throughout the small kitchen remodel.
Backsplash lighting is great to set the mood or use as a nightlight. Plenty of recessed lighting in the kitchen design so the cooks can see what they're doing.
New off white cabinet with ornate molding throughout and glass panels in the cabinet.
Dual waste tucked away in cabinets keeps the smell down and open ups the floor plan.
Built in appliance garage to hide away all of the home owners appliances when guest come over.
Tall pantries in the kitchen to store all of the home owners food.
Plenty of soft close drawers and cabinets for storage space at hands reach in the off white kitchen Acton MA
In Summary-
In this new kitchen design, Acton MA, we creatively improved the storage space! The off white cabinets brighten up the small space. The cabinets have ornate details in the door and trim. This kitchen has plenty of storage space that makes it easy to store the home owners cooking tools. There is an appliance garage to hide a way your appliances but keeps them out and accessible. One wall is lined with tall pantries and can store plenty of food. In the far corner there is a custom bar area with open shelves to store wine bottles. This not only looks great but doubles as great storage too. The counter tops are all new granite and match the over all color tones of the kitchen.
Please click on the images below to see enlarged pictures of this off white kitchen remodel, Acton MA……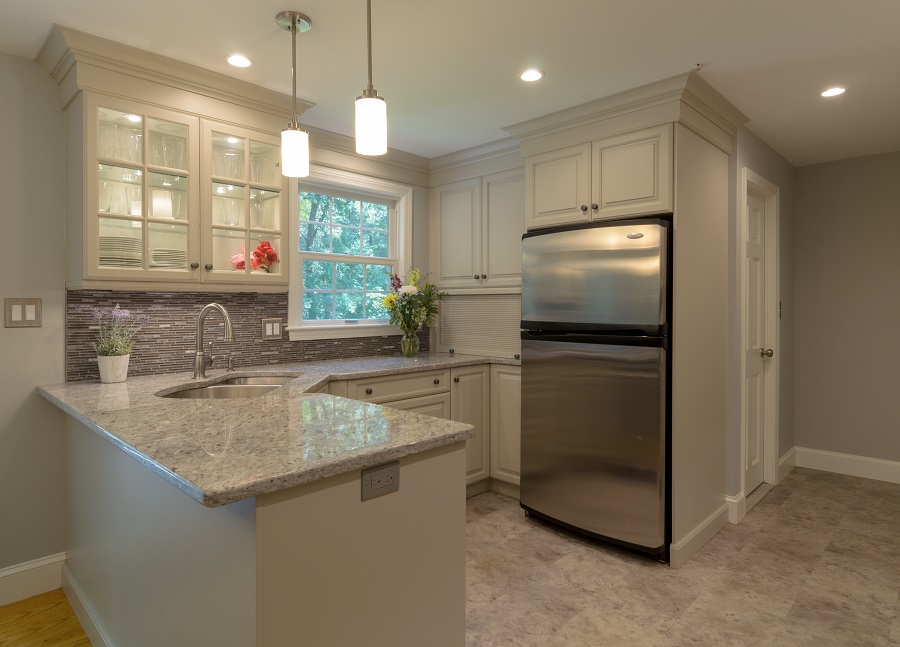 Schedule Your Free Home Design Consultation