Designing a narrow white kitchen in your home might seem like a challenge but we see this as a unique opportunity for a dream kitchen makeover!  
Whether it's installing open shelves, choosing a bold backsplash or embracing white tile, there are plenty of ways to make the most out of unique spaces. In this blog post we turned this confined kitchen into an Instagram-worthy home renovation. We hope to inspire your ideas on how to decorate and spruce up even the tightest corners. Read on for our top tips and tricks for designing a narrow white kitchen – transforming ordinary into extraordinary!
How to Choose Cabinets for a Narrow White Kitchen
In this exciting home remodel, cabinets reign supreme!
With so many different cabinet options to choose from, it can feel overwhelming to decide which type is best for your needs. However, we highly recommend mixing and matching open shelves and customized cabinets in your white kitchen. Not only do open shelves provide a visually appealing way to showcase your prized possessions, but customized cabinets also offer ample storage space to keep everything organized and out of sight. Plus, who doesn't love the added bonus of having a clutter-free kitchen?
So don't hesitate, choose both open shelves and customized cabinets in your white kitchen and watch as your space transforms into a beautifully functional oasis.
What else can I add to my narrow white kitchen?
Add extra wow factor by incorporating a wet bar into your plans!
A wet bar brings sophistication to your space and offers so many benefits. Here's what a wet bar adds to your home:
Designate an area to store and display glassware and drinks
Entertain guests without leaving the room
Extra storage and prep space for parties and events
Adding a wet bar can also help to create a more "grown-up" vibe in your home, perfect for entertaining or simply enjoying a nightcap after a long day. If you're designing a narrow white kitchen, why not consider adding this feature to your home remodel?
It's the perfect way to elevate your space and create a more enjoyable living experience.
Why add a kitchen peninsula to your home remodel?
If you're considering a home remodel, a kitchen peninsula is definitely worth considering.
Despite the challenges of designing a narrow white kitchen, a peninsula still adds extra counter space and storage. We love this feature because it creates a clear division between a cooking area and a dining or seating area, making it easier to entertain guests or enjoy family meals. Plus, if you're going for a white kitchen look, a peninsula can serve as a stunning focal point and anchor the space. It's a versatile addition that offers many benefits for both functionality and aesthetics.
So why not consider incorporating one into your kitchen remodel?
Schedule Your Free Consultation Now
Are you ready to give your next remodel that WOW factor?
Our newest kitchen renovation project is a great example of how you can take a tight, dark space and turn it into something beautiful and timeless with fresh white cabinets, sleek appliances, and more. With all the new features, this kitchen renovation will be enjoyed for years to come.  Speaking of home improvement projects, now is the perfect time to plan out your next one. Whether you're looking for something small or wanting to redo your whole living space, our designers at Dream Kitchens are available to help.
Contact us now for your free consultation so we can make your dream kitchen come true!
View Our Narrow White Kitchen Gallery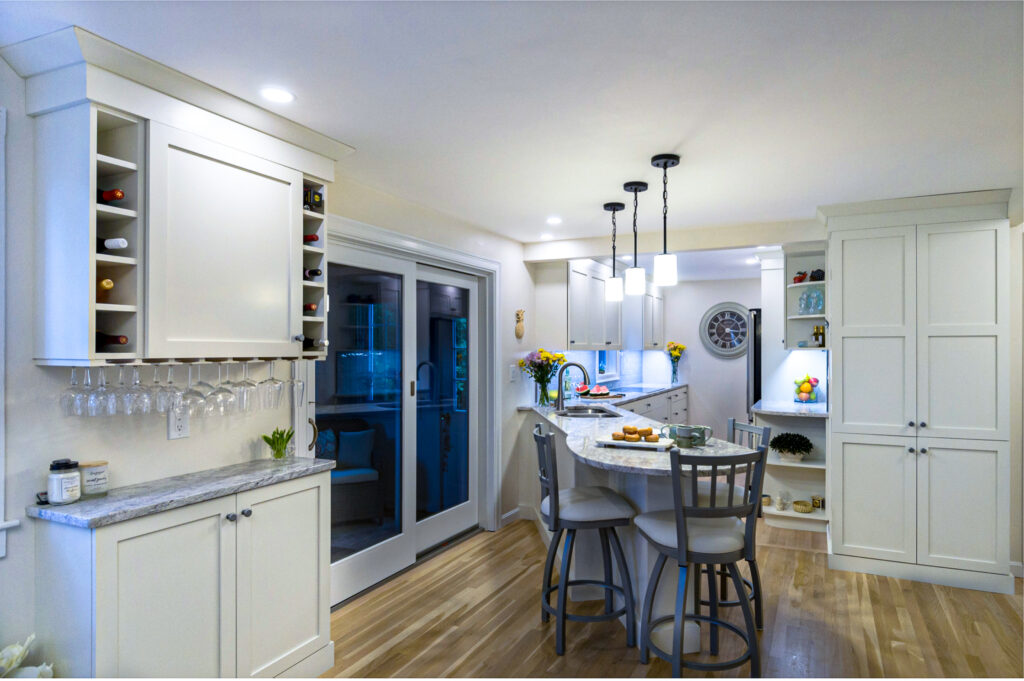 Don't forget to follow us on Houzz and Kitchens.com.