Award Winning Designs – Over 200 Awards
Come Visit our Award Winning Showroom
How to Design Your Small White Kitchen: Smart Home Renovation Ideas for Small Spaces, New Hampshire  
Are you ready to make the most out of your small kitchen? 
Let's remodel your kitchen so that it looks more spacious, modern and inviting!
It's hard enough designing a home but designing a small kitchen seems so daunting – especially if you don't have a large budget or time to work with. But there is no need to worry, our award winning team at Dream Kitchens can transform any space, small or large, into a picture perfect kitchen.
In fact, this recent white kitchen remodel was fully customized to make the most out of this small space. Our biggest design secrets truly made this remodel into a dream kitchen, if you're looking to remodel read on for renovation inspiration!
Adding Dreamy White Cabinets to Your Small Kitchen
Heavenly white cabinets are a must-have if you want to brighten up the room! They not only add a clean yet timeless look to your space, but we customize our cabinets to increase storage space in your kitchen by over 30%.
What are benefits of brand new cabinets?
Extra Storage Space
An Exciting New Look for Your Home
Cleaner Countertops
Customized Areas for Spices and More
One of our favourite remodel features is to customize a vertical cabinet that stores all your herbs and spices. With a simple touch, the shelf springs out so all your essential cooking ingredients within arm's reach of the stove, making your workflow as effortless as possible!
Imagine having all your kitchen essentials neatly organized and tucked away in your beautiful new cabinets. Plus, extra storage space means clutter-free countertops so you'll have plenty of space for cooking and meal prep.
So why not add stunning white cabinets to elevate your kitchen's style and functionality?
Maximizing Space with a Kitchen Peninsula
No kitchen renovation is complete without the addition of extra storage space! A brand new peninsula improves this space by
Adding Storage Space
Adding Prep Space
Creating Extra Seating for 2-3 People
That's why we added a new peninsula to this small kitchen!
This new feature not only adds prep space but also doubles as a place to sit and eat. With seating for 2, it's the perfect spot to relax and enjoy a meal without the need for a formal dinner table. There's so much natural lightening here so this space is the perfect spot to study, work, or read. A small remodel shouldn't hold you back from having the remodel of your dreams.
Adding a peninsula increases your storage space and this renovations' functionality!
Smart Features in This Dream Kitchen: Hidden Outlets and Lighting
Take a page out of this white kitchen design and add hidden electrical outlets with lighting to your new remodel.
These smart features not only add a sleek and modern touch to your space, but they also make cooking and cleaning a breeze. With perfect lighting in every area, you won't have to worry about missing a spot when you're cleaning up after dinner. And with the convenience of having your devices charged and ready to go, any spot on the countertop can be used for your appliances.
Trust us, once you have these features in your kitchen, you won't know how you ever lived without them!
Schedule Your Free Consultation Now!
This small home renovation comes with BIG benefits!
Every space, however small, can become your dream kitchen with the right touch – and this renovation proves exactly that! From a new peninsula to beautiful white cabinets, a small kitchen remodel can can have the smart features that larger kitchens have. This white kitchen renovation was a stunning success and we hope it inspires your next home remodel.
So don't forget: if you have an idea for a dreamy home remodel, contact us now for your free consultation!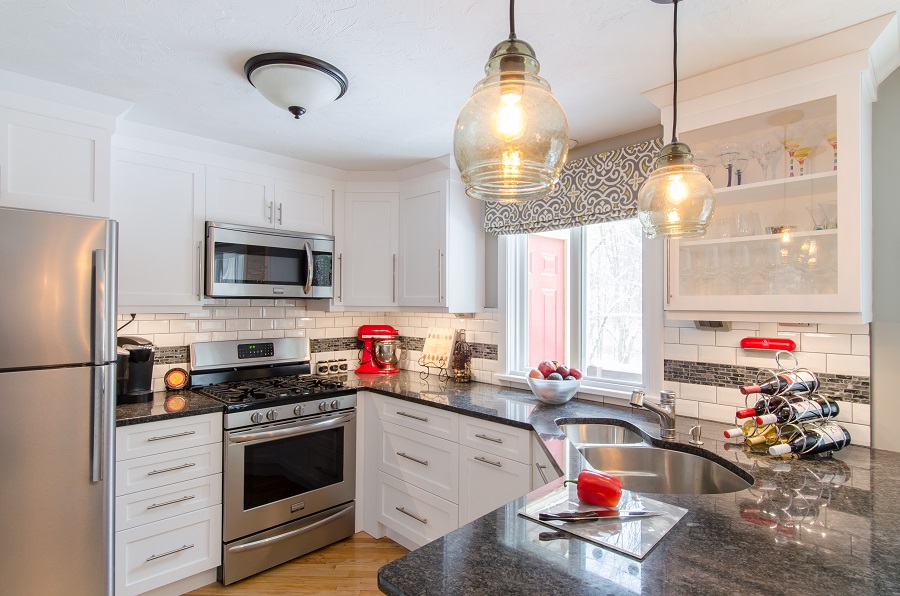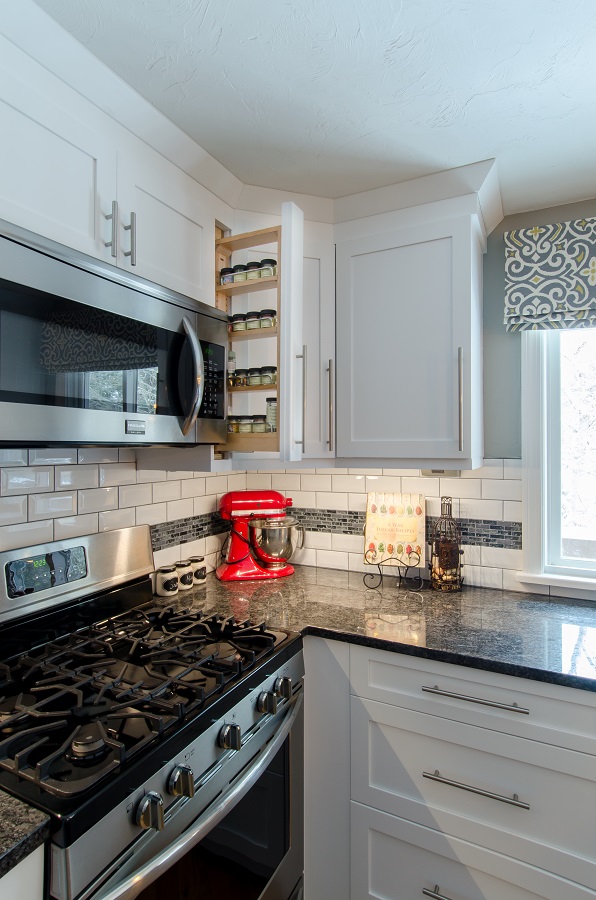 Don't forget to follow us on our social media on Facebook, Instagram, Pinterest and Youtube!