A uniquely shaped kitchen layout shouldn't discourage you from remodelling!
Mostly importantly, a cookie cutter design is not your renovation answer! With a few creative (and custom) solutions, your uniquely shaped kitchen can be stylishly redesigned and updated! With the help of strategic cabinetry and custom countertops, you can turn your off-kilter layout into an extraordinary remodel. Here we'll show you how we revamped and transformed this most oddly-shaped kitchen.
So don't get frustrated—get inspired! Turn that one-of-a-kind home remodel into something truly remarkable.
The Challenges Of Remodelling A Uniquely Shaped Kitchen
When we think of a normal kitchen, we usually think of a rectangular floor plan where the walls form a normal rectangular shape. With this kitchen, there are so many angles which proved to be an exciting challenge for our Dream Kitchen Designers. 
Here's what we saw:
Odd angles for walls
Countertops and cabinets would need to be custom fitted
A T-shaped wall that semi-separates the kitchen from the dining area
How We Customized Countertops To Fit Odd Angles
Space is so important to any kitchen project!
Since this kitchen is also a small remodel, we knew that maximising the workflow and movement was a must! So we created angled countertops for the opposite side of the kitchen. Instead of a complete right angle for a countertop, we removed the countertop tip to open up more floor area. This creates more walkable space and helps the family avoid bumping into a hard countertop. 
Though we usually add a kitchen peninsula or island to a brand new kitchen renovation, this kitchen remodel didn't have enough space for either. Instead we saw a T-shaped wall that partially separated the kitchen from the eating area.
So how did our designers approach this unique design layout?
It's all in the custom countertop fit!
Using this T-shaped angle, we created a U-shaped countertop that fit the wall perfectly like a puzzle piece. This uniquely shaped countertop now functions as an eating or studying area on one side and hosts a sink on the other!
Plus we love how these stunning black countertops ground the space against these dreamy white cabinets.
Choosing New Cabinets and Shelves
Every kitchen remodel needs new cabinets, so we combined two types of cabinets for this remodel!
Why use open shelves?
We love open shelves since these shelves show off your favorite items and make it so easy to reach and design. Pairing shelves with cabinets, open shelves open up whole new possibilities for home decor.
We love how the homeowners add a few seasonal decorations to these shelves!
Contact Us Now For Your Free Consultation
We absolutely loved the challenges that this uniquely shaped kitchen had. By creating custom countertops and cabinets, we took full advantage of maximizing storage and prep space in such a small yet uniquely shaped kitchen!
If you have uniquely shaped kitchen layout, don't be discouraged! Our Dream Kitchen designers will help you turn any space into a stunning kitchen makeover. Benefit from our fully customized remodel solutions right here in Nashua, New Hampshire. We promise to add at least 30% more storage and prep space with every design option!
Contact us now for your free consultation or call 603-891-2916 to speak directly to our designers!
View This Dream Kitchen Makeover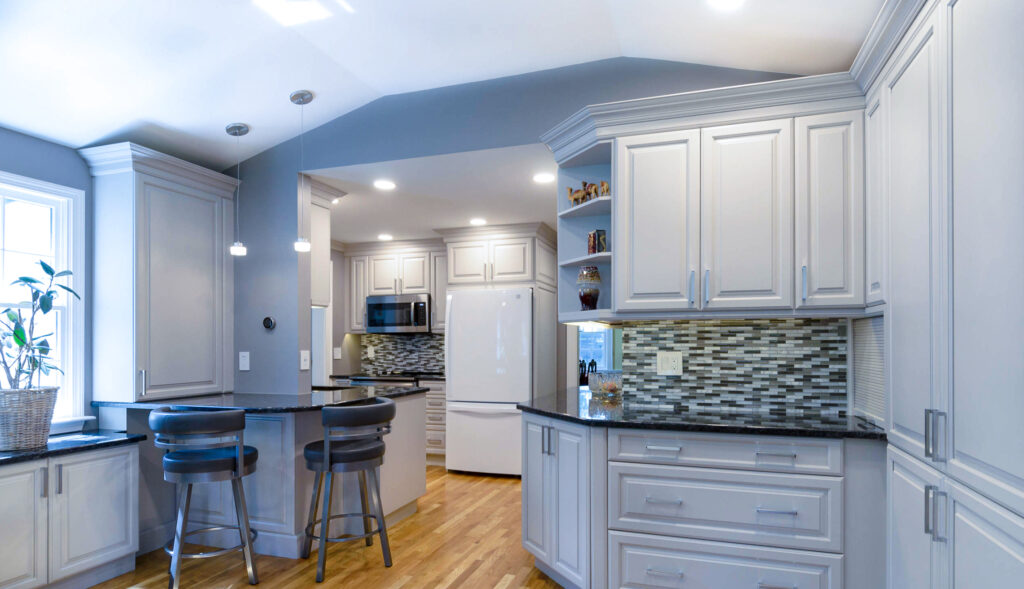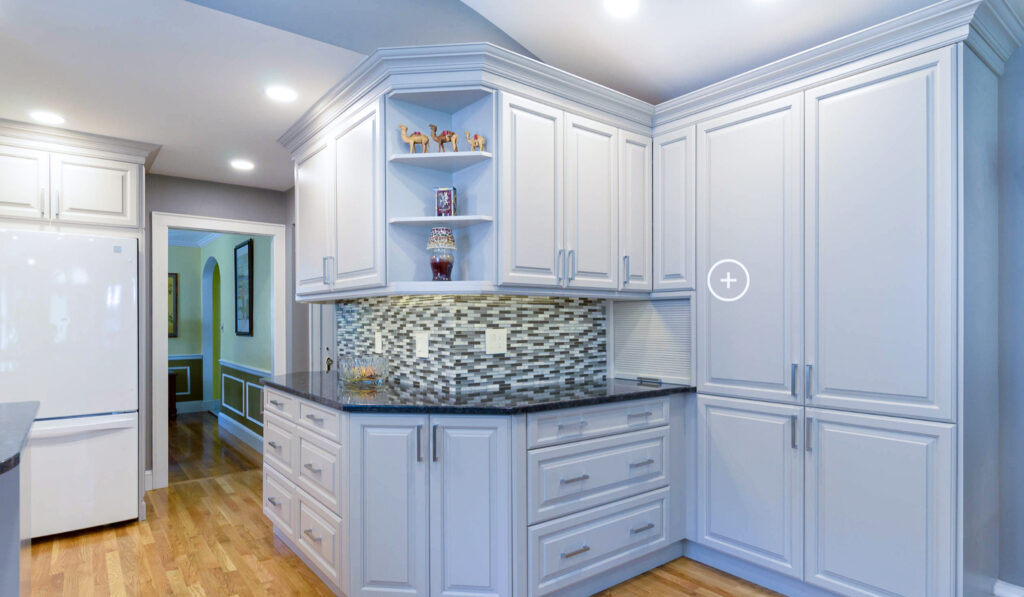 Don't forget to see our other kitchen remodels at https://www.kitchens.com/pro/dream-kitchens