Award Winning Designs – Over 200 Awards
Come Visit our Award Winning Showroom
Home Makeover Ideas: Two Toned White Kitchen with Light Brown Cabinets in Massachusetts 
Looking for exciting home makeover ideas for your next kitchen remodel?
This two toned white kitchen with light brown cabinets might be the project for you! This stunning combination is an excellent choice to create a stylish yet cozy space. With thoughtful planning, careful craftsmanship, and attention to detail, we transformed this space into a real dream kitchen remodel!
Home Makeover Ideas: Buffet Area
If you're looking for innovative ways to transform your kitchen, we have a kitchen renovation idea that might just inspire you! We recently took on a project where we completely transformed an empty wall inside this white kitchen. One of the most exciting changes we made was adding a buffet area. By utilizing the back wall base cabinets, we were able to add additional storage and even a small bar. This space is packed with extra features like
Mini fridge
Custom drawers for dishes, towels and more
Extra countertop space for potlucks and buffets
Matching white backsplash
Not only does this provide a great space for hosting events and entertaining guests, but it also takes the buffet-style eating experience to a new level. Imagine having plenty of counter space for your delicious spread of food, all while being surrounded by a modern and sleek design. Are you ready to take your kitchen to the next level?
Kitchen Renovation Ideas: Peninsula Seating
Are you in need of extra seating for your family meals, but don't have room for a large dining table?
Look no further than a kitchen peninsula! Not only does this area provide ample space for four people to comfortably dine, but it also adds valuable storage space underneath. Imagine having all your pots, pans, mixing bowls, and small appliances within arm's reach while cooking up a storm in your kitchen. Plus, there's the added bonus of Tupperware and serving dishes finding a permanent home. With a peninsula, you can enjoy a delicious home-cooked meal and have organized kitchen storage all in one!
Home Makeover Ideas: Charging Drawer
Are you tired of seeing a jumbled mess of chargers, cords, and electronic devices cluttering up your space?
A charging drawer might just be the solution you're looking for! This home makeover idea can help keep your gadgets organized and fully charged. It's a real game-changer for anyone who's tired of constantly searching for a free plug or untangling cords. Here's what you can charge inside this nifty charging drawer:
Laptops
Tablets
Phones
Flashlights and more
With a customized drawer made specifically for your gadgets, you can say goodbye to cluttered counters and hello to a more streamlined, efficient space. Plus, with all your devices charged and ready to go, you'll stay connected and productive with ease. Take the first step towards a more organized home today with a nifty charging drawer!
Contact us for your free consultation!
We have so many creative ways to revitalize your kitchen here at Dream Kitchens.
Home makeover ideas like the buffet area are just the beginning! With the addition of a peninsula, ample seating for four people is possible, as well as generous storage space beneath for your cooking and serving necessities. To make life even more convenient, adding a charging drawer can help organize one's cords and keep all your gadgets juiced up as well. All of these elements together can truly help change the look and feel of your kitchen space. Your home will be so inviting for gatherings with family and friends. We hope our project has inspired you to start thinking about what changes you can make at home.
Planning to remodel this year?
Bring your vision to life with us with your free consultation – contact us today and let's plan your dream kitchen makeover!
"Dream Kitchens was extremely attentive and professional during all phases of our kitchen design. I would highly recommend using them if you want to have your forever kitchen."

Matt Walsh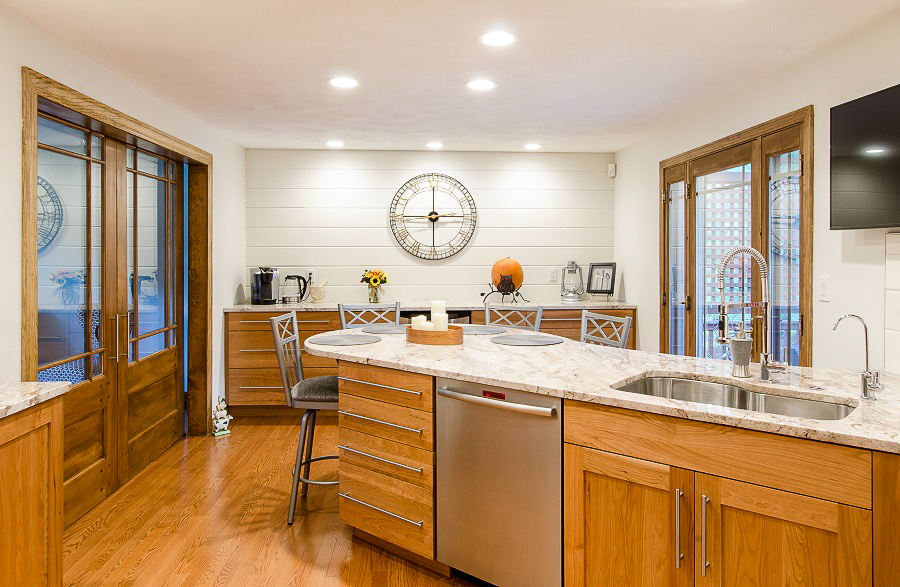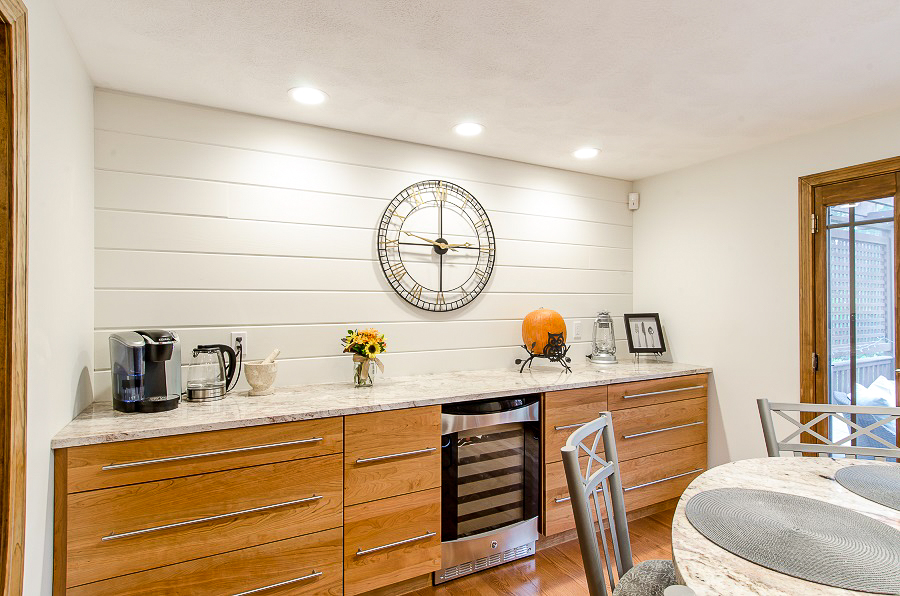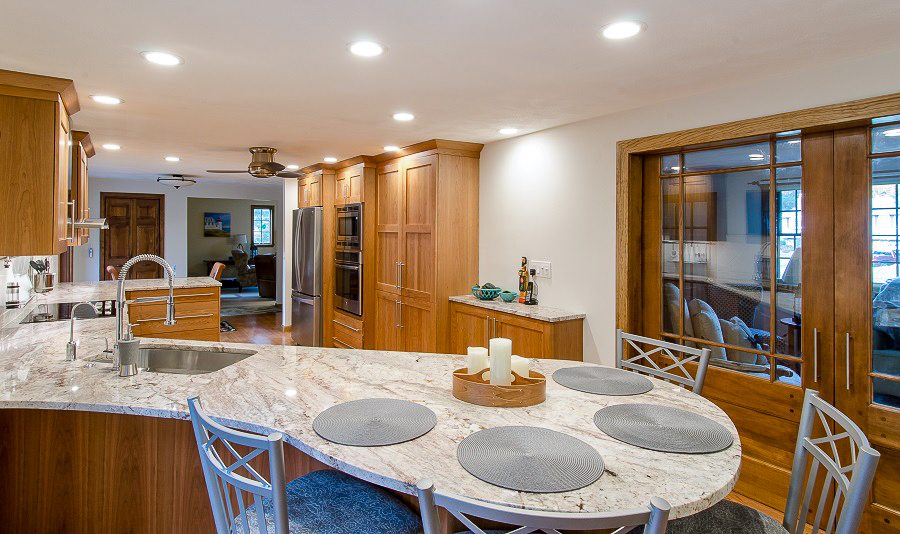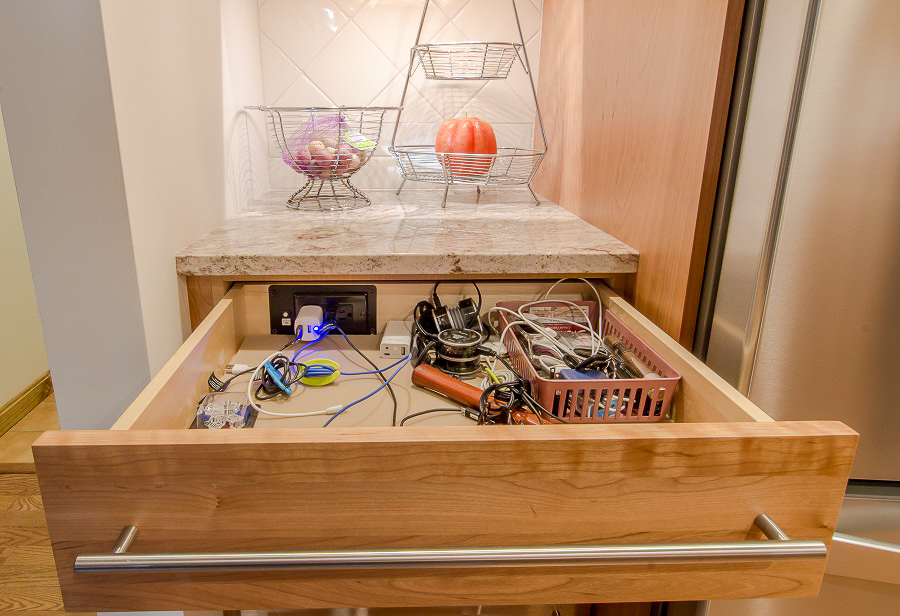 Don't forget to follow us on Facebook, Instagram, Pinterest and Youtube!