Award Winning Designs – Over 200 Awards
Come Visit our Award Winning Showroom
How To Remodel Your Dream Kitchen: Nina's 5 Home Renovation Tips!
Planning your picture perfect kitchen but don't how or where to start?
Look no further!
After years of experience as a professional home renovation expert, I've assisted many homeowners in here in New Hampshire and Massachusetts with renovating their kitchens. Whether you're starting from scratch or just looking for tips on how to update an old favorite, I've written 5 smart inspiration tips tailored specifically to add that WOW factor your kitchen remodel. It's time to transform your current space into a kitchen worthy of a magazine spread!
Get ready because this will be one amazing home renovation adventure!
How To Remodel Your Kitchen
Tip 1: Maximising your storage is essential to having a great kitchen.
I have seen many kitchens that have no place to put the frying pans, no real pantry and no counter space on either side of the cook top. These are not functioning kitchens! I maintain that all cabinets less than 12 inches are useless. What can you store in cabinet that's less than a foot deep? Not much.
If you are going to spend the money to remodel your kitchen, let a designer help you maximise the storage space so you can really use it. No more trips to the basement to get a pan or roll of paper towels. For example, so many homes have empty spaces or corners that go unused! We love turning an empty corner into a pantry or minibar with brand new cabinets and a countertop. This is perfect for placing keys, snacks or a TV to keep up with your favourite shows!
At Dream Kitchens, I guarantee we will give you at least 30% more storage space.
Tip 2: Your kitchen should fit your lifestyle.
A kitchen is more than just a room in a house, the kitchen is the center of our lives.
We cook, our children study, and we entertain in the kitchen. This makes the layout essential. How many times have you asked your child to "stop standing their so I can get to the fridge?" We should be able to easily chat with guests, put chips and dip on a buffet and watch TV. We want guests welcome in the kitchen but on the fringes where they add to the fun so they don't get in the way of cooking or hosting duties.
When remodelling your kitchen, the new layout should reflect your wants and needs in this space.
A real dream kitchen should absolutely enhance your lifestyle!
Tip 3: Show your personality.
Do you love the look of a heavenly white kitchen or prefer the warm inviting atmosphere of light brown tones?
There are endless ways to personalize all the elements in your home remodel including the backsplash, stained glass features, contrasting stains or paint colors and moldings. Normally I visit a client's home to view the colors and the styles. Then I bring that into the new kitchen remodel. I can make your new space reflect what you imagine in your personal dream kitchen. We can design a calm, playful, practical elegant or subtle style!
The kitchen is where you spend your time and it should be a showcase for your home.
Tip 4: Get rid of the clutter!
Most people's countertops are just full of things like dish racks, spice bottles, blenders etc. You are lucky to have 12 inches of countertop that does not have clutter on it! This makes it almost impossible to prepare food in addition when we entertain in our kitchen, it looks so messy. I will clear off your countertops and even get rid of that drying rack next to the sink. To entertain in the kitchen, your remodel should look beautiful, clean and tidy.
Tip 5: Convenience isn't a luxury, it's safety and a necessity.
Isn't it so inconvenient to walk around the kitchen for items as you cook?
You shouldn't exercise in the kitchen!
There are many places we should get exercise, but the kitchen is not one of them. Imagine having to carry a heavy pot of water or a blender across the kitchen. An accident might happen and you could hurt yourself. We can install easy-lift drawers for mixers that rise with a simple touch or put a hot water faucet right above your stove!
All items should be at hand so you can change a pan without walking around your kitchen! Most kitchens have pans stacked all around but what if everything you need were in arm's reach of the stove?
Convenience is so important, safe, and valuable for your dream kitchen remodel!
Schedule Your Free Consultation Now!
There are endless possibilities to remodel your dream kitchen.
Opting for storage solutions such as kitchen islands, spice racks, lazy Susan's and slip-out trays creates a welcoming atmosphere for you, your family and guests. Not only are convenience, comfort and design elements essential but they should all provide easy access without making clutter in the kitchen. With these tips in mind, it's simple enough to take your kitchen design from dull to dynamic without breaking the bank!
So what are you waiting for?
Contact us today for your free consultation so we can start designing your dream kitchen!
Discover these exciting dream kitchens we recently remodeled!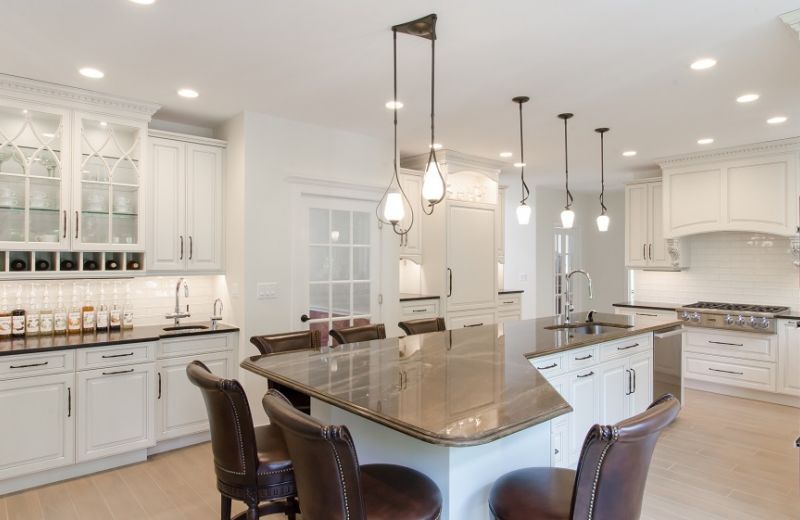 Don't forget to follow us on Facebook, Instagram, Pinterest, and Youtube!
Explore our latest dream kitchen remodels on our blog, just click the button below.